Muhammad Ali, 'Greatest' Boxer Who Riveted World, Dies at 74
Muhammad Ali, the brash, fleet-footed heavyweight boxing champion whose charisma transcended sports and made him a global symbol of social change, has died, according to a statement released by his family. He was 74.
Ali was hospitalized in the Phoenix area with respiratory problems earlier this week, the Associated Press reported. He suffered from Parkinson's disease, a neurological affliction that some doctors attributed to the head blows he took during two decades as a boxer.
"The three-time World Heavyweight Champion boxer died this evening," Bob Gunnell, a spokesman for the family, said in an e-mailed statement. "The Ali family would like to thank everyone for their thoughts, prayers, and support and asks for privacy at this time."
Ali's illness prematurely silenced one of the great self-promoters, agitators and entertainers in sports history. He delighted sportswriters with his poetic putdowns of opponents and was outspoken as well on race, religion and war. He managed to emerge from his firebrand years as something of a statesman, saluted during the opening ceremonies of the 1996 and 2012 Summer Olympics.
He defended his religion in December after Donald Trump's proposed call for a ban on Muslim immigration to the United States, saying in a statement to NBC News that "Muslims have to stand up to those who use Islam to advance their own personal agenda."
In the ring, Ali pulled off some of boxing's biggest upsets. He first won the heavyweight title in 1964 by defeating the fearsome Sonny Liston. Exiled from boxing for more than three years for refusing military induction during the Vietnam War, Ali returned to the ring and reclaimed the heavyweight belt by handing George Foreman his first defeat in the 1974 "Rumble in the Jungle."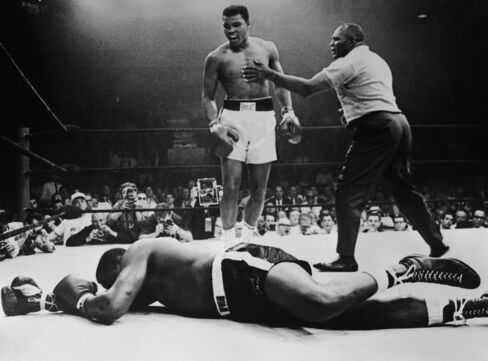 Source: Allsport Hulton Archive/AFP via Getty Images
Fighting Spinks
He lost the title to Leon Spinks in 1978, then beat him in a rematch to become the first three-time heavyweight champion in history — a feat later surpassed by Evander Holyfield.
His three bouts with Joe Frazier are considered the greatest trilogy ever, with Frazier handing Ali his first defeat in their initial fight and Ali winning the next two, including the "Thrilla in Manilla" — a contest so brutal that Ali compared it to death. The Ali-Frazier rivalry was a personal feud that stemmed from Ali's ridicule of Frazier as "a gorilla" and "too ugly to be the champion."
"I hated Ali," Frazier said in "Muhammad Ali: His Life and Times," a 1991 biography by Thomas Hauser. "God might not like me talking that way, but it's in my heart."
Respects Frazier
A frail-looking Ali attended Frazier's funeral in November 2011 after his rival's death from liver cancer. "I will always remember Joe with respect and admiration," Ali said in a statement.
Nicknamed "The Louisville Lip" early in his career because of his Kentucky hometown and his boasting, Ali called himself "The Greatest" and wrote poems predicting in which round his opponent would fall.
His playful public image became more serious when, days after beating Liston in 1964, he joined the Nation of Islam and changed his name from Cassius Clay to Muhammad Ali, as bestowed by the spiritual leader Elijah Muhammad. While some viewed the move as an act of black pride, others criticized him for joining what they considered an extremist group.
'Most High'
Asked in 1985 how Muhammad Ali differed from Cassius Clay, Ali answered, according to Ira Berkow of the New York Times:
Ali departed from both the "good Negro" image forged by Floyd Patterson and the "bad Negro" reputation of Liston, the two black heavyweight champions who preceded him, David Remnick wrote in "King of the World," his 1998 biography of Ali.
"I had to prove you could be a new kind of black man," Ali said, according to Remnick. "I had to show that to the world."
Diagnosed with Parkinson's in 1984, Ali continued to travel the world to promote his religion and international goodwill, but gave few interviews or speeches.
At the 1996 Summer Olympics in Atlanta, he steadied his trembling hands long enough to light the caldron at the opening ceremonies.
'Good Life'
"I don't want anyone to feel sorry for me, because I had a good life before, and I'm having a good life now," Ali said, according to Hauser's book.
Cassius Marcellus Clay Jr. was born on Jan. 17, 1942, the first of two boys raised in Louisville by Cassius Sr., a painter of signs and murals, and his wife, the former Odessa Lee Grady, who cleaned the homes of wealthy families.
He began boxing at age 12 after his bicycle was stolen and a local policeman encouraged him to learn how to fight as a means of self-defense. He became a successful amateur boxer, winning two national Golden Glove titles, two Amateur Athletic Union championships and the light-heavyweight gold medal at the 1960 Summer Olympics in Rome.
Heavyweight Champ
He turned professional after the Olympics and compiled a 19-0 record before facing Liston, a feared puncher who was the heavy favorite in their title match in Miami Beach, Florida. Liston quit after the sixth round, making Ali the second-youngest heavyweight champion, at 22.
Ali won the rematch in 1965 on a first-round knockout in Lewiston, Maine. He decked Liston with a single punch that was difficult to see, leading to unproven accusations that the fight was fixed.
As a young fighter, at 6 feet, 3 inches (191 centimeters), Ali dazzled fans and opponents with his lightning-fast punches and fancy footwork, which included a dance-like move known as the Ali Shuffle. 
The style inspired corner man Drew "Bundini" Brown to coin the saying, "Float like a butterfly, sting like a bee."
Following nine successful title defenses, Ali caused a furor in 1967 by refusing induction into the U.S. Army, citing his religious beliefs. ("I ain't got no quarrel with them Viet Cong," he had proclaimed the previous year.) He was stripped of his title by boxing authorities and banished from the ring in the prime of his career.
Supreme Court
Praised by anti-war protesters and vilified by others, Ali was convicted of draft evasion and sentenced to five years in prison. He remained free on bail during his appeal. His conviction was overturned in 1971 by the U.S. Supreme Court, clearing the way for his return to boxing.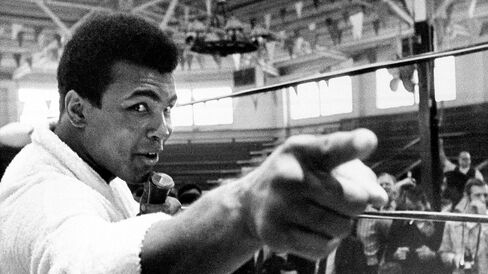 Following two warm-up wins over Jerry Quarry and Oscar Bonavena, Ali met Frazier for the undisputed heavyweight title on March 8, 1971, at New York's Madison Square Garden. Both boxers were undefeated, and each received a then-record $2.5 million for what was called the "Fight of the Century."
Frazier floored Ali with a left hook in the 15th round and won a unanimous decision, although he looked even more battered than his opponent after the fight. Ali won their non-title rematch in 1974 by unanimous decision to set up a championship fight against Foreman, who had won the title the previous year by knocking out Frazier.
Novel Strategy
Using the "rope-a-dope," a strategy of standing against the ropes and letting Foreman punch himself into exhaustion, Ali regained the belt with an eighth-round knockout in the "Rumble in the Jungle" in Kinshasa, the capital of Zaire, now the Democratic Republic of the Congo.
Eleven months later in the Philippines, he beat Frazier again in one of the most savage title fights in heavyweight history. With both fighters on the brink of collapse, Frazier's trainer refused to let him come out for the 15th round.
"It was like death," Ali said at the time. "Closest thing to dying that I know of."
Late in his career, Ali was a heavier, slower fighter who relied more on guile and guts than speed and skill.
Following his rematch victory over Spinks in 1978, Ali announced his retirement, only to return for two more fights, losing to champion Larry Holmes in 1980 and Trevor Berbick in 1981. He left the ring for good with a career record of 56 wins and five losses. Though knocked to the canvas four times — one time each by Sonny Banks, Henry Cooper, Frazier and Chuck Wepner — he always got back to his feet and was never counted out.
Highest Honor
President George W. Bush awarded Ali the Presidential Medal of Freedom in November 2005, the highest civilian honor in the U.S. A few weeks later, former President Bill Clinton attended the opening of the Muhammad Ali Center in Louisville, an $80 million museum that chronicles the fighter's life in and out of the ring.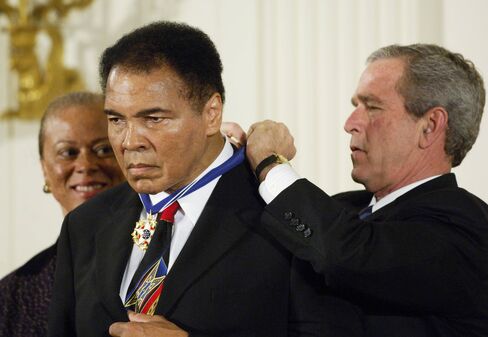 Ali had four marriages, the last one to the former Lonnie Williams, and had a total of nine children. His youngest daughter, Laila, is a former women's boxing champion.
Muhammad Ali's funeral will take place in his hometown of Louisville, Gunnell said in the statement. There will be a media briefing regarding funeral plans tomorrow morning in Phoenix at the JW Marriott Scottsdale Camelback Inn.
(Updates with quote from Ali's family spokesman in third paragraph.)
via Laurenc Arnold, Bloomberg | photo yourblackworld. net
Please comment below and share